Đại lý ADFweb Vietnam, ADFweb Việt Nam, HD67056-B2-20, ADFweb Vietnam
Hãng sản xuất: ADFweb Việt Nam
Liên hệ tư vấn
Đại lý ADFweb Vietnam, ADFweb Việt Nam, HD67056-B2-20, HD67056-B2-20 ADFweb, Bộ chuyển đổi tín hiệu HD67056-B2-20, Thiết bị ADFweb Chính Hãng Giá Tốt
PTC Việt Nam là công ty XNK hàng đầu và là nhà cung cấp chuyên nghiệp các mặt hàng
"Thiết bị điện, Điện công nghiệp, Điện tự động"
Nắm bắt xu hướng công nghiệp hóa, hiện đại hóa và dẫn đầu trong ứng dụng công nghệ cao vào tự động hoá trong quản lý và sản xuất, Pitesco Việt Nam tự hào đem đến cho Quý khách hàng sự lựa chọn tối ưu và đáng tin cậy về linh kiện, phụ tùng, thiết bị tự động, nhằm tối ưu hoá hiệu quả kinh doanh của Quý khách hàng.
PTC Việt Nam cam kết luôn cung cấp cho Quý khách hàng những sản phẩm và dịch vụ tốt nhất trong các lĩnh vực:
· Factory Automation: cung cấp tất cả dòng sensor như pressure sensors, capacitive sensors, ultrasonic sensors, inductive sensors, photo sensors, magnetic sensors...
· Motion Control: motor, controller, inverter, PLC, encoder, bearing...
· Process Instrument: các giải pháp về nhiệt – temperature, pressure, level, flow, valves, gauge...
· Electric Part: power cable, control cable, anti-fire cable...
· Safety: relays, switches, fuse...
Với những thương hiệu hàng đầu và uy tín trên khắp thế giới như: Balluff, Moxa, ADFweb, MTS Sensor, Kinetrol, AGR, Vaisala, NSD Group, Watlow, FMS,…..
We are a dynamic company specialized in technology.
We develop and produce electronic equipment, such as the following:
Gateways for the connection between field bus and/or different protocols (CANopen, Modbus, Zigbee etc.).

I/O Electronic boards.

Electronic apparatus for measuring and acquiring data.

Customized electronic apparatus, including driver and software.


Our products can be produced with our brand name or customized with our customers' name.
We sell our products all around the world through online and through resellers.
It is very important for us to serve customers quickly and effectively.
We pride ourselves in offering comprehensive technical service with the installation of all our products.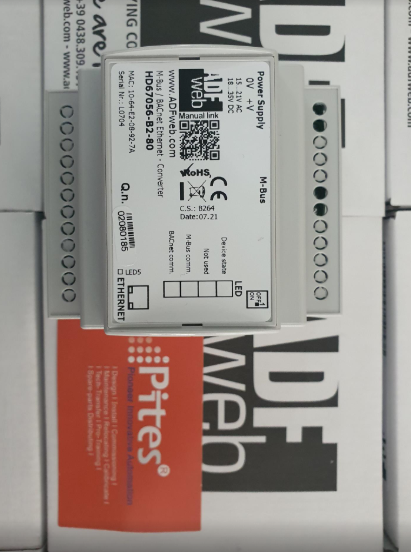 Specifications:

Ports:

1xM-Bus; 1xBACnet;

Data Rates M-Bus

Up to 38400 bps

M-Bus Connector

2way 5mm fixed screw terminal

Data Rates BACnet

10/100 Base-T Autosensing

BACnet Connector

RJ45

Power supply

15...21V AC ; 18...35V DC

Operating temperature

-40蚓/+80蚓 (-40蚌/+185蚌)

Dimensions

71x60x95 (DxWxH)

Weight

200g approx

Mechanical fixing

DIN Rail montage

Software

SW67056

ORDER CODE:

HD67056-B2-20
HD67056-B2-20

View
BACnet Ethernet / M-Bus - Converter
(BACnet Protocols:BACnet Ethernet, BACnet IP - Master M-bus: up to 20 slaves)
-40° to +85°

HD67056-B2-40

View
BACnet Ethernet / M-Bus - Converter
(BACnet Protocols:BACnet Ethernet, BACnet IP - Master M-bus: up to 40 slaves)
-40° to +85°

HD67056-B2-80

View
BACnet Ethernet / M-Bus - Converter
(BACnet Protocols:BACnet Ethernet, BACnet IP - Master M-bus: up to 80 slaves)
-40° to +85°

HD67056-B2-160

View
BACnet Ethernet / M-Bus - Converter
(BACnet Protocols:BACnet Ethernet, BACnet IP - Master M-bus: up to 160 slaves)
-40° to +85°

HD67056-B2-250

View
BACnet Ethernet / M-Bus - Converter
(BACnet Protocols:BACnet Ethernet, BACnet IP - Master M-bus: up to 250 slaves)
-40° to +85°