Electro sensors, Wireless hazard Monitoring Electro sensors, thiết bị giám sát không dây cho môi trường khắc nghiệt, Electro sensors Việt Nam
Nhà cung cấp: Pisteco Việt Nam
Hãng sản xuất: Electro Sensors
Liên hệ tư vấn
Mr Hà
ha@pitesco.com
0914.643.179
HAZARDPRO™ BELT ALIGNMENT
HazardPRO Belt Alignment Sensor
Features
• Direct connection to HazardPRO node
• Fixed cable with M12 connector included
• 2-wire (current loop type)
• Installs in-line of belt travel
• Optional stainless steel jacketed cable
• Class II, Div 1, Groups E, F, G, Class III, Div 1
The belt alignment temperature sensor is mounted on the machine in a location such that if the belt moves to the inside of the casing, the brass sensor body will be contacted and the resulting temperature rise will be detected.HAZARDPRO™ AMBIENT
HazardPRO Ambient Temperature Sensor
Features
• Direct connection to HazardPRO node
• Fixed cable with M12 connector included
• 2-wire (current loop type)
• Installs on machine surfaces
• Optional stainless steel jacketed cable
• Class II, Div 1, Groups E, F, G, Class III, Div 1
The ambient temperature sensor is used to measure the local surface temperature on each side of a machine. The temperature of the bearing and belt alignment blocks are compared to this local ambient temperature to determine if the machine is operating properly.
HAZARDPRO™ STUD SENSOR
HazardPRO Stud-Mount Temperature Sensor
Features
• Direct connection to HazardPRO node
• Fixed cable with M12 connector included
• 2-wire (current loop type)
• 3/8"-16 threaded stud for mounting
• Optional brass block magnet mount adapter
• Optional stainless steel jacketed cable
• Class II, Div 1, Groups E, F, G, Class III, Div 1
The stud-mount temperature sensor is often used with the optional magnet-mounted brass block to measure surface temperature on gear boxes and other equipment surfaces where no holes can be drilled.
HAZARDPRO™ NODE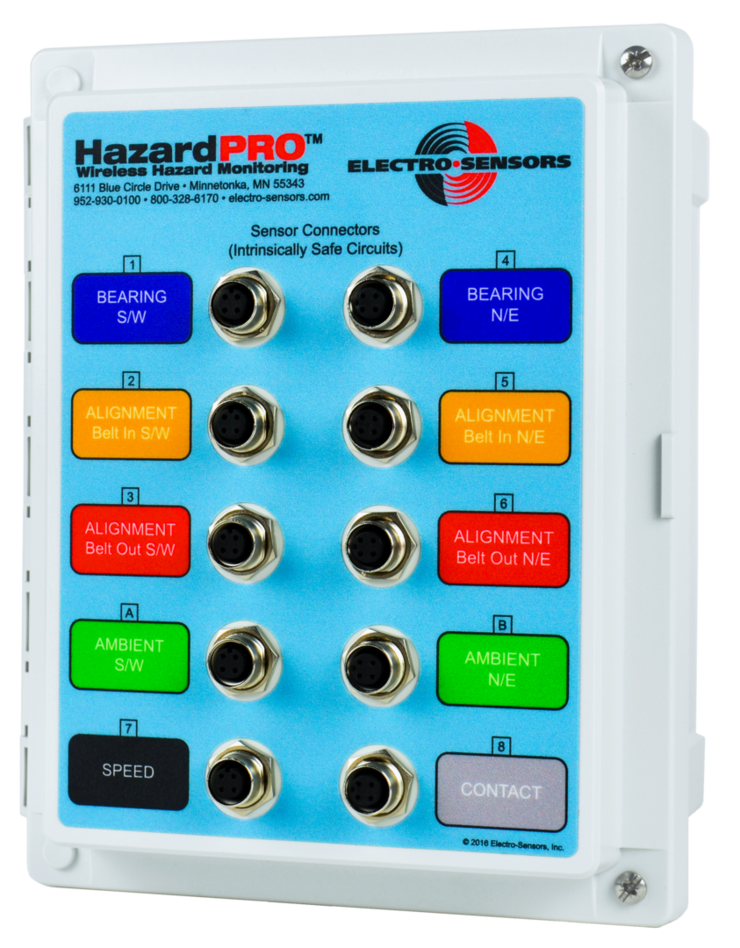 ---

HazardPRO Wireless Transmitter Node
Features
• Transmit-on-change keeps data current
• No external power
• 5+ year battery life
• Heartbeat transmissions verify reliable wireless
communication
• Quick connect sensors for easy installation &
equipment maintenance
• Offering both Class II, Div. 1 and Class II, Div. 2 Nodes
The battery-powered I.S. HazardPRO Node is the sensor-input building block for HazardPRO Hazard Monitor Systems, providing intrinsically safe connections for 10 HazardPRO (and compatible) sensors (8 temperature, 1 shaft speed, 1 switch contact). Nodes power their sensors, acquire their signals and transmit to the HazardPRO System Manager via wireless (802.15.4) network.
HAZARDPRO™ SYSTEM MANAGERS XS/XM/XL
HazardPRO System Managers
Features
• TCP/IP Modbus communication
• SPDT relay for each piece of equipment plus
one for warning notification
• Controlled levels of authority
• Real-time information and live charting
• Redundant radios for error-free communication
Sizes:

Cabinet Dimensions: 24 x 24 x 10
• XS (Up to 4 pieces of equipment, 15" touchscreen)
Cabinet Dimensions: 30 x 30 x 10
• XM (Up to 16 pieces of equipment, 15" touchscreen)
• XL (Up to 32 pieces of equipment, 21" touchscreen)